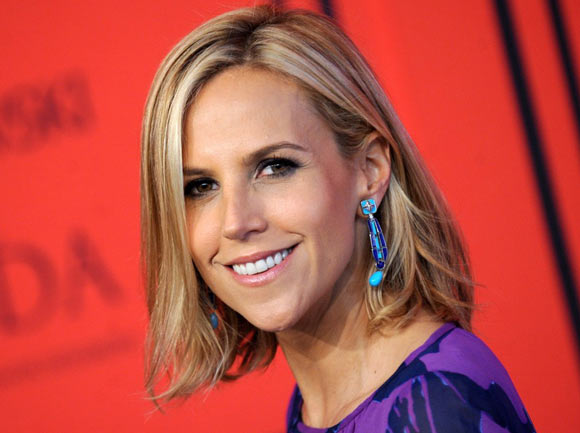 Tory Burch is a fashion designer and philanthropist who created a multi-million dollar lifestyle brand in a short period of time. Her brand which goes by her name is classic and has a modern sensibility.
Burch was born on 17th June 1966 in Valley Forge, Pennsylvania. She inherited a lot of style from her parents who were part of the Main Line gentry. Burch admits that both her parents had an impeccable taste in clothing and style and she soaked up plenty of it. She attended the Agnes Irwin School in Rosemont. She was rather tomboyish in her childhood; she rode horses and was also captain of the tennis team. Burch got her first job at Benetton at the King of Prussia Mall. She went to University of Pennsylvania where she studied art history and graduated in 1988. Meanwhile she also honed her PR by working with various designers such as Vera Wang, Ralph Lauren and Narciso Rodriguez.
Over the years she planned her future as a designer by putting up pictures from fashion magazines and old pictures in a scrapbook. During this time she got married to William Macklowe who was son of the real estate mogul Harry B. Macklowe. However she got divorced within the first year. In 1996 she then got married to J. Christopher Burch who was an investor in the Internet Capital Group. The marriage lasted till 2006 however she continued living in their New York City apartment and has three children from him. Her first collection was launched from her Manhattan apartment followed by a downtown boutique. Her fashion label 'TRB by Tory Burch' which was later renamed 'Tory Burch' began in 2004. By 2013 the company had expanded to include 83 stores all over the world. Her clothing line is carried in more than 1000 stores both departmental and specialty including Neiman Marcus, Bergdorf Goodman, Bloomingdales, Saks Fifth Avenue and Nordstrom.
Her fashion style is preppy-bohemian luxe and preppy-boho. Her clothes are easy to wear and are very popular. She is one of the designers credited for turning the t-shirt in a fashionable item of clothing. There were actually waiting lists for her clothes in 2007 which were inspired from the 50s and 60s fashions. She is the chief executive officer of the company that offers not only clothing but also accessories like handbags, eyewear, shoes and jewelry.
Tory Burch has won several awards such as accessory designer of the year from the Council of Fashion Designers of America in 2008. In 2007 the Accessories Council of Excellence awarded her with the Accessory Brand Launch of the year award. She got the Rising Star Award from the Fashion Group International for the best new Retail Concept in 2005. Burch is also a philanthropist. She founded the 'Tory Burch Foundation' in 2009 that backs the empowerment of women in America by giving them small business loans and providing them with entrepreneurial education. She is also a member of the board of the Memorial Sloan-Kettering Cancer Center.