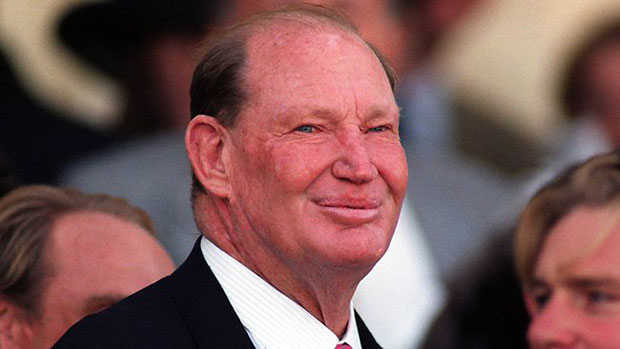 The Australian media tycoon, Kerry Packer was the owner of the Publishing and Broadcasting Limited. His lavish lifestyle and harsh personality attracted a lot of media attention however he was also known for his entrepreneurial skills and ability to make clever deals.
Packer was born on 17th December 1937 in Sydney, Australia. Packer had a rough childhood as he got a severe attack of poliomyelitis at 8. His father thought he was not at all intelligent and called him the 'family idiot'. He inherited the Australian Consolidated Press from his father. He created the 'World Series Cricket' in which he made contracts with the most popular cricketers to play one day matches in colorful attire and attained the sole rights to broadcast the matches on Channel Nine. This led to many legal disputes and Packer finally sold the channel to Alan Bond for 1 billion Australian dollars which he later bought back in 1990 for only 250 million when Bond's business was crumpling.
Packer was also known for being directly involved in the content of his newspapers however much less than is heard of the extremely proactive Rupert Murdoch. He also frequently interfered in the programming of his TV stations. It is said that in 1992 while Australia's Naughtiest Home Videos was airing on TCN-9, he called his Sydney Station and told them to take the show off air immediately. He is famous for establishing the World Series Cricket which caused him a lot of problems as there was a lot of rebellion when top players rushed to join Packer at the expense of their teams. Packer hired the best lawyers to make sure that he could maintain his broadcasting rights for Australian cricket. Kerry Packer was also very interested in Polo and he created Ellerston and Ellerstina that modernized polo immensely.
Packer was Australia's largest land owners. Lucky for him a deposit of rubies was found in one of his lands in 2003. Packer was always in some sort of controversy throughout his life. He was a heavy chain smoker and very fond of gambling. He was eminent for his massive wins and losses. He lost almost 28 million dollars at London Casinos in 1999 which was said to be the biggest amount loss in British history. Similarly he won 33 million dollars at the MGM Grand Casino in Las Vegas. He spent millions in gambling and also had no regrets when he lost the money. He also had many extra-marital affairs. Kerry Packer was also friends with many politicians whom he used for his own benefits whenever he needed them. He was on the side that was most popular at the time. Sometimes he would be with the Labor Party and when the Liberal Party started gaining popularity he would side with them. Nevertheless, packer was a highly clever businessman who knew exactly when and how to make a deal. He was highly respected in the business world as a self-made man. The Packer Empire consists of TV networks, magazines, petrochemicals, telecommunications, diamond exploration and heavy engineering.
Parker died of kidney failure on 26th December 2005 in Sydney.